Quick links: Arcade Game Sizes | Available Games | Delivery | Included Services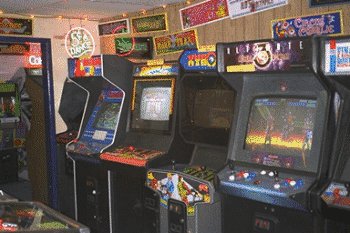 IMPORTANT Service and Future Repair Information on our Frequently Asked Questions page! Please read this over so you understand YOUR responsibilities when owning a classic Arcade Video Game.
Arcade game sizes
Full Size
A full-size stand-up arcade game measures approximately 25 inches wide, 33 inches deep, and 6 feet tall. Their weight ranges from 250 to 300 pounds. Some games have large control panels, but they can easily be removed to bring into your home and then re-installed with just bolts and electrical plugs, so you can do it yourself!
Cabaret
Cabaret or Mini- sized games are ideal for people who want a much smaller footprint. These machines are usually 20 to 22 inches wide, 28 to 32 inches deep, and 5 feet tall. They do not look as imposing as regular-size machines.
Cocktail Table
A Cocktail Table game allows two people to sit in chairs opposite each other and each would have their own set of controls to play. The screen reverses for each player's turn.
Cockpit
A Cockpit style game allows players to sit in a specially-made seat that is integrated into the game cabinet. In driving and flying games, it really puts the player into the action. Many cockpit games can be wired in pairs for head-to-head gameplay.
For single-player cockpit unit is typically 26 to 31 inches wide, 5 to 6 feet long, and 4 to 5 feet tall. A double-player version is usually 5 feet wide, 5 feet long, and 4 to 5 feet tall.
Available games
Click the linked game names to see videos of reconditioned machines we have recently sold – this will give you an idea of how the games look when reconditioning is finished! We will take pictures and even a video of the completed machine for your approval before shipping!
To read details about and see pictures of any video game, visit the Killer List of Video Games website.
Full Size games
Name
Updated September 26th, 2023
Manufacturer
Year
Price
Notes
In showroom?
Arcade Legends 3
Chicago Gaming
2013
$3,199
125 classic games—BRAND NEW
yes
All American Football
CInematronics
1989
$500
4 player football game…Game works fine but no sound…selling as is…
Arcade Legends
Chicago Gaming
2005
$3,299
250 games 25″ Monitor—the original machine also has Ms Pacman and Donkey Kong!
yes
Arctic Thunder Cockpit
Bally Midway
2000
$2,799
Terrific Ski Themed driver
Area 51 Site 4
Atari
1995
$1,999
2 guns, aliens invading
Asteroids Deluxe
Atari
1980
$2,599
Original space classic with super sharp vector monitor-We will also include the Multi board that gives you 3 games to play…the original Asteroids, Deluxe and Lunar Lander! OR buy as is electronics done, without the 3 game board for $1700 ( we also have a working cocktail table available as is working fine for $1500)
Asteroids
Atari
1979
$2,599
Price is for it all restored, and plays 3 games-Asteroids, Asteroids Deluxe and Lunar Lander Buy with electronics restored, but we have one Asteroids that works fine but ugly cabinet for $850
yes
Bicep Buster Wrestling Machine
International Vending
1980's
$1,399
Test your skill! Comes with seat buy as is working fine for $1000
yes
Class of 81 Multicade Cabaret
Namco
2001
$2,499
19″ LCD Monitor and has Sixty Classic Games now! Ms Pacman and Galaga side art–like new! Also have one with original Picture Tube…same price
Class of 81 COCKTAIL TABLE Multicade
Namco
2004
$1,799
Updated with 60 classic games
yes
Class of 81 Multicade full size
Namco
2001
$2,699
with sixty classic games and LCD monitor or picture tube… Add $225 more for trackball feature
yes
Cobra Command Laser Disc
Nihon Bussan
1984
$4,199
This is the Japanese Laser Disc Game-not to be confused with the 1988 Data East version–in a Cliff Hanger cabinet
Cruisin' USA Cockpit
Midway
1995
$1,999
The first of three classics! Cruisin' World is also available $2399
Golden Tee Golf COMPLETE
Incredible Technologies
2005
$2,499
all 28 courses…LCD monitor Ready to Go!
yes
Golden Tee Golf 2020
Incredible Technologies
2020
$3,899
Large LCD pedestal monitor–NICE! Converted to Flash card–no hard drive!
yes
Grand 1000 Mile Rally 2
Kaneko
1996
$1,299
Working fine upright driving–buy as is working fine for $800
Gunsmoke
Capcom
1985
$700
working fine but bottom of cabinet was wet at one time–selling as is
Killer Instinct
Nintendo
1995
$1,500
this was a conversion..black sides…selling as is…almost boots up
Megatouch Force Touchscreen countertop
Merit
2007
$1,199
80 touch games to play! LCD Flat Screen style other models in showroom now! Also two others in showroom now!
yes
Megatouch Aurora Touchscreen Countertop
Merit
2011
$1,699
Merit's largest screen–over 100 games
yes
Millipede Cabaret
Atari
1982
$3199
A rare CABARET Millipede from Ireland Atari plant! We have upgraded it to play the original Centipede, Breakout, and Warlords (one player) in addition to Millipede!
Ms Pacman
Bally Midway
1981
$2,299
Restored side art….also buy for $1999 with high gloss black sides restored (We have an unrestored game in showroom now, you can buy for $1599)
yes
Ms Pacman Cocktail Table MULTICADE
Bally Midway
1981
$2,399
The original game and cabinet (not a home made reproduction) with the original joystick that feels so great, but updated with sixty classic games! The control panels also light up
Multicade
Various
1981
$1,999
Three styles of cabinets to choose from in our showroom now-SIXTY classic Games to play As low as $1399 to $1999
yes
NBA Jam Tournament Edition
Midway
1994
$3,299
4 player classic–special–we have one that's gloss black painted but working fine for $2499
Neo Geo
SNK
1989
$1,499
Comes with 160 game cartridge-19″ monitor
Outrun
Sega
1986
$2599
In a private home since 1995 just traded in
yes
Pacman 25th Anniversary Cabaret
Namco
2005
$2,499
Like brand new! updated to 60 classic games
yes
Pacman Arcade Party Cabaret
Namco
2010
$2,199
Like brand new…licensed original with 13 games to play also…the cocktail table version is $1999 and also in showroom
yes
Police Trainer
P & P Marketing
1997
$2,499
2 player gun game..shooting gallery
Soul Edge
Namco
1995
$1499
Buy as is before we restore it for $900
yes
Stargate
Williams
1981
$2,499
restored….or Buy as is working fine for $1400
yes
Tekken Tag Tournament
Namco
1998
$1000
Selling as is working fine…large 25″ screen
yes
Tri Sports
Midway
1989
$700
Buy as is working fine f..Plays Mini Golf, Bowling and Pool–trackball rebuilt
yes
Virtua Cop 2
Sega
1996
$1,999
2 Gun– 2 player game–buy as is working fine for $1000
Zaxxon
Sega Gremlin
1981
$1100
Looks good, Works fine…selling as it is!
yes
Cockpit games
| Name | Manufacturer | Year | Price | Notes | In showroom? |
| --- | --- | --- | --- | --- | --- |
| Arctic Thunder | Midway | 2000 | $2799 | Snowmobile-seat vibrates | |
| Cruisin' USA | Midway | 1995 | $1999 | Legendary Driver! also Cruising World for $2399 | |
Delivery
TNT Amusements' truck and men can deliver machines up to a maximum of 100 miles from our shop. If you are outside this range, it must get shipped by Common Carrier. Once a machine leaves our loading dock onto a commercial truck operated by a trucking company, we cannot be responsible for any damage. All carriers have a $500 deductible for damage.
When the crated machine arrives, inspect the cardboard, pallet, and wrap. If you notice any damage, make sure the driver takes pictures of it and notes it on your delivery slip. In almost every case, the damage is a minimum and can be repaired easily by you, rather than sending the game back. We will do everything we can to assist you with the repair and tips.
See our FAQ page for full details about shipping games to your home.
Included Services
All games include a 30-day comprehensive service, one year of reduced-cost on-site service, and free lifetime phone support. See our FAQ page for full details.
Understand YOUR responsibilities when owning a classic arcade video game!