Inventory: Arcade Video Games
Video Upright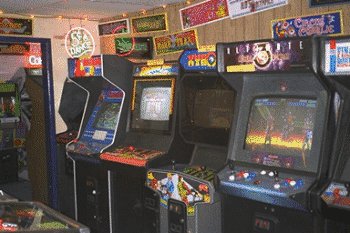 A full size stand-up game measuring approximately 25 inches wide, 33 inches deep and 6 feet tall. This can vary somewhat.  Weight ranges from 250 pounds to 300 pounds.  Some games have large control panels–but they can easily be removed to bring into your home and then re-installed–just bolts and electrical plugs –so you can do it yourself down the road!  A Cabaret or Mini are ideal for people who want a much smaller footprint.  These machines are usually 20 to 22 inches wide, 28 to 32 inches deep and 5 ft tall.  The do not look as imposing as the regular size machines.  A Cocktail Table game allows two people to sit in chairs opposite each other and each would have their own set of controls to play.  The screen reverses for each player's turn. *To read details and see pictures of any Video games, check this site:  www.klov.com Hyperlinks below show reconditioned machines we have recently sold–this is to give you an idea how the games look when finished!  We will take pictures and even a Video of the completed machine for your approval before shipping!
Video Title

Mfr

Year

Price

Video notes

In Showroom

18 Wheeler
Sega
1996
$2599
Driving game–upright version has lean on seat! Buy as is working for $1300
yes
Arcade Legends 3
Chicago Gaming
2013
$2999
125 classic games—Brand new in box-
Arch Rivals
Bally Midway
1989
$1799
2 player Basketball Game!  buy it as is working for $800
Arctic Thunder Cockpit
Bally Midway
2000
$2799
Terrific Ski Themed driver–see in showroom NOW!
 yes
Area 51/Maximum Force
Atari
1999
$2,499
Just traded back in!  TWO games in ONE!  Watch video!  also have another one in unusual cabinet for $2299 also in showroom too
yes
Area 51 Site 4
Atari
1998
$1599
2 Gun classic
Asteroids
Atari
1979
$1999
Original space classic with super sharp vector monitor
Asteroids Deluxe
Atari
1980
$1999
Classic sequel to original hit!
yes
Atari Football
Atari
1978
$2499
Original 2 large Trackball 2 player classic!  Buy clean and working, but as is for $1500–see it in showroom NOW!
yes
Bowl A Rama
Capcom
1987
$1399
3 different bowling games to play –with trackball Buy it as is working $800
Centipede
Atari
1981
$1999
Trackball classic with nice sideart
Cobra Command Laser Disc
Nihon Bussan
1984
$4199
This is the Japanese Laser Disc Game-not to be confused with the 1988 Data East version–in a Cliff Hanger cabine
Crystal Castles
Atari
1983
$1999
Neat M<aze game with Bently Bear! New Trackball—Buy as is for $900
yes
Cruisin' The USA
Midway
1995
$1999
Original Driving Classic cockpit
Cruisin' Exotica
Midway
2000
$2399
cockpit driver–in Cruising USA smaller cabinet
Dark Stalkers-The Night Warriors
Capcom
1994
$1999
2 player –creatures of the night–On Hold
Defender
Williams
1980
$1999
All time classic! Original cabinet –Buy as is for $1400
yes
Deluxe Space Invaders
Bally Midway
1981
$1999
Expanded levels of play!  Classic!
Donkey Kong
Nintendo
1981
$2599
Original classic with new side art—also COCKTAIL TABLE VERSION that plays all 3 Donkey Kong games for $1999!
Donkey Kong Jr
Nintendo
1982
$2199
Restored classic with new side art!
Donkey Kong 3
Nintendo
1983
$1999
Third and final version!
 yes
Eswat Cyber Police
Sega
1989
$1399
neat 2 player futuristic fighter!  Buy it as is working for $500
yes
Golden Tee 2K
Incredible Tech
1988
  $1399
large 25″ screen—some great courses–Buy it as is working for $750
 yes
Golden Tee Complete
Incredible Tech
2006
$2299
All 28 courses–brand new 27″  monitor!
Ladybug
Universal
1982
$1699
Maze game in cocktail table cabinet—buy as is working for $600!
Make Trax
Williams
1982
$1799
Hard to find these days!  Buy it working as is for $1200
Maximum Force
Atari
1994
$1799
great 2 gun game! Buy it as is working for $900–in our showroom NOW
yes
Megatouch Force
Merit
2007
$1299
80 touch games to play!  Buy as is working $600
Mr. Driller
Namco
1999
$1499
25″ screen
Ms. Pacman
Midway
1981
$1799
cabaret version…upright is currently not in stock.
NEO GEO 2 slot
SNK
1992
$2199
25″ monitor-2 slot  with 140 game cartridge in it–buy as is working fine for $1200–see in showroom NOW
 yes
Night Stocker
Bally Sente
1984
$2499
hard to find driving/gun game-in smaller cabinet
Off Road Challenge
Midway
1996
$1999
Challenging Cockpit Driving Game
Open The Safe
MCI
1971
$1999
mint shape…oddball game—unlock the safe!!  RARE! Buy as is working $1500
yes
Outer Cosmic Invaders
Bally Midway
1979
$200
This was a bootleg conversion in a Midway cabinet–it comes up with garbage on screen…as is for $200
Quarterback
Leland
1987
$1699
Rare dedicated 2 play John Elway Football Game-with 25″ monitor
Pacman Arcade Party
Namco
2011
$2799
Brand New 19″ LCD; 13 Classics  COCKTAIL–upright is $2899
Pacmania
Midway
1989
$1999
3D images, all new mazes – Buy it as is working for $1400–see in our warehouse
Pacman
Midway
1980
$1999
all time classic in original yellow cabinet
yes
Playchoice 10
Nintendo
1986
$3499
Super popular with 10 games plus the rare GUN addition! Buy as is working for $2200
yes
Police Trainer
P & P Marketing
1996
$1999
Terrific two gun skill game!
Revolution X
Midway
1993
$1999
2 Machine Guns, Aerosmith Music–Buy it as is working fine for $1000–in our showroom NOW
yes
Sharpshooter
P & P Marketing
1998
$1899
2 gun game
Shock Troopers
SNK
1998
$1599
Neo Geo classic
Simpsons
Konami
1991
$2499
classic 4 player–recently shopped–buy as is , working $2000
yes
SNK King of Fighters
SNK
2001
$1599
2 Player 25″ Fighting Game
Space Invaders cocktail
Taito
1979
$1799
Cocktail Table has COLOR Monitor & left/right joystick
Stargate/Defender
Williams
1981/80
$2299

TWO classics to play  in one gorgeous original STARGATE cabinet

READY TO GO right NOW!  Watch video of exact machine you will get!

yes
Super Off Road
Cinematronics
1987
$2999
Classic 3 Wheel Ivan Stewart driving game!   this is Available Again
Super Pacman
Midway
1983
$1999
Eat the keys to unlock the doors–Dedicated Original
 yes
SVC Chaos
 SNK
 2003
$1799
Large 25″ screen–2 player fighter Buy as is working $1200
yes
Tekken Tag
 Namco
1993
$1499
2 player fighter  Buy as is working $900
Time Killers
Strata
1992
$1499
2 player fighter…great stereo sound-Buy as-is for $700
yes
Total Carnage
Midway
1991
$1799
Conversion kit in a Punchout cabinet=–ON HOLD
yes
Tornado Baseball
Midway
1975
$1499
Classic Baseball video with Blacklight–buy it working, but as is for $500 and recondition it yourself! In our warehouse
TUGBOAT
Moppet Video
1981
$2499
Super Rare tiny cabaret Moppet video game—so hard to find!
yes
Turbo Outrun
Sega
1989
$2599
Classic driver in small compact COCKPIT sit in cabinet!  But it working fine, but as is for $900!
yes
Vanguard
Centuri
1981
$1699
Rarely seen classic from early 80's
Virtua Cop 2
Sega
1996
$1999
2 Gun 2 player game
yes
World Series
Cinematronics
1987
$1499
Now classic Baseball Game with small pit and bat controls!  Buy it as is for $800
X Men Children of the Atom
Capcom
1994
$2499
2 player 25″ monitor fighter–in deluxe version in taller cabinet
Zaxxon Cabaret
Sega
1981
$2499
Rare cabaret version—buy as is for $1300
yes
Video Cockpit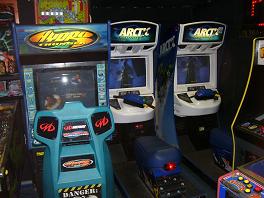 For single player, is 26 to 28 inches wide, 5 to 6 feet long and 4 to 5 feet tall. A double player version is usually 5 feet wide, 5 feet long and 4 to 5 feet tall.
| | | | | | |
| --- | --- | --- | --- | --- | --- |
| Video Title | Mfr | Year | Price | Video Notes | In Showroom |
| Arctic Thunder | Midway | 2000 | $2799 | Snowmobile-seat vibrates | yes |
| Cruising the USA | Midway | 1994 | $1999 | single seat driving game | |
|  Cruising World |  Midway |  2000 |  $2299 |  Legendary Driver! | |
| Lucky & Wild |  Konami |  1994 | $2499 |  drive and shoot! | yes |
| Off Road Challenge | Midway | 1997 | $1999 | Single Seat driver | |