Private Parties (updated 5/22/2023)
Special: We have some 2 hour slots open THIS weekend at reduced prices for up to 40 people:

 

Sunday May 28th   7pm 9pm $225 

————————————————————————————————————

Do you want to keep your party SMALL or have a LAST MINUTE PARTY?

We now offer

private

SMALL GROUP (one to ten people)  1 & 2 hour slots 7 days a week for as low as $25 (for 1 or 2)! But you

MUST

call us ahead to make sure we don't have another group already booked! This is just for Game Play and NO FOOD service.

Go to the BOTTOM of this page for full pricing!
 ~~~~~~~~~~~~~~~~~~~~~~~~~~~~~~~~~~~~~~~~~~~~~~~~

We've hosted over 28,000 parties
in 36 years since 1987! 
~~~
Call (

215-953-1188 ext. 0

) or email us (

tntquality@aol.com

) today to check on dates to book your next party.
Our staff will all have masks and gloves if you desire.  You and your guests can choose if you want to wear masks or not.
~~~
 What we offer for each party:
*UNLIMITED FREE PLAY on almost 60 different arcade-sized Video Games, Pinball Machines, Driving & Skill Games, along with a Jukebox! No fussing with tokens or coins, as EVERYONE plays continuously!
*ONE MAIN ENTRANCE assures you the maximum security for your entire group.
*YOUR GROUP GETS EXCLUSIVE use of our Air-Conditioned Showrooms !  Only ONE PARTY at a TIME in our facility!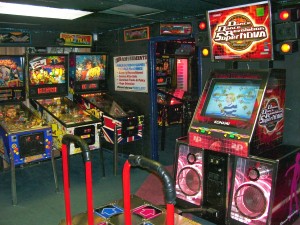 *THE GAMES IN OUR SHOWROOMS ARE IN THEIR BEST OPERATING CONDITION because our main business is Home Sales (our flippers flip, our joysticks work!). No hunting for an attendant for lost tokens or refunds! Also, our games CONSTANTLY change as we sell them, assuring your guests of different games each party — week after week!
*OUR PROFESSIONAL STAFF runs your party assuring you of extra personal attention!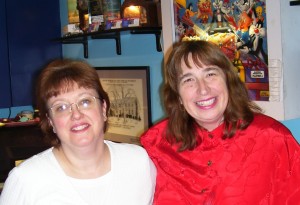 *ADDITIONAL ROOM WITH A KITCHEN, microwave oven (to heat hot dogs & other food items), a refrigerator with large freezer are included (to fit an ice cream cake). The hostess addresses all your serving needs. We have tables & chairs in this separate room. We can also serve buffet style (ideal for adult groups).  If desired, we have three local pizza shops that will deliver Pizza's starting at just $6 a pie!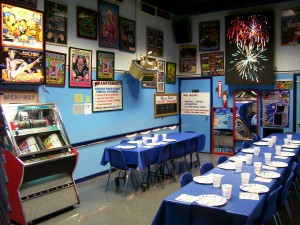 Take A Real VIRTUAL TOUR of our party room and see what our facility looks like!
We were picked BEST OF PHILLY 2015 for "Grown-Up Entertainment" by Philadelphia Magazine!  Adults have just as much fun!
============================================================================
NOW read here How to Rent Our Maze-Like Showroom….

Sorry, no alcoholic beverages at any time! Your party at TNT will be a hit for all ages. Because your group is the only one scheduled at that time, the party becomes very personal for you and your friends. Our professional staff attend to your every need in setting up the food service and running the games. Even if you live in Philadelphia, Bucks, Montgomery, Chester Counties, Delaware or even North Jersey, Central Jersey, or South Jersey areas, you are still close enough to enjoy what we offer! You can come to TNT in several minivans or SUV's, carpooling with your party goers! We have had folks even rent a bus to bring their group to us! (Camps & local schools schedule us and bring busloads of kids all the time!) Unlike other recreational places where you are given a few tokens per person and must constantly buy more and more throughout the party, ALL of our games are on "FREE PLAY" and everyone in your party group can play any game as many times as they want. (Did you know, a typical party group can actually play $300 worth of games in 2 hours time?) There is only ONE rental charge at TNT, no other extra "Hidden" expenses! We sell NOTHING at TNT…so there is NO WAY you or your friends will ever spend more money!! Because we sell our games as our main business, they are in excellent condition and you rarely find one broken! (How many times have you been to other recreational places and found many broken games and have searched in vain for an attendant to get a refund, or "unstick" your tokens?) Of course, if you do encounter a broken machine, just move on to the next one (we WILL try to fix it of course, as we cannot SELL a broken game!) You will provide whatever food and paper products you would require for your party. Your TNT hostess will set up and serve these for you. We also include a short film shown on a giant screen during the "Food Break." These are classic cartoons from the golden age of cartoons–real theatrical prints projected on film, not video! If you are serving a meal, we will have the first break about 35 minutes into the party. This takes about 10 minutes. Once the cartoon is over, most everyone is finished eating and goes back in to play. Slow eaters can stay! We clean up and then 30-40 minutes later, we will have a SECOND break for the cake/ice cream! This way, everyone has time to digest the food and are ready to have more—other party places stuff you in a hot room for 30-40 minutes to have BOTH dinner and cake–and the kids are bouncing off the walls wanting to go back and play!  NOT AT TNT!  Of course, we can change this arrangement for your party requirements.
WE provide Blue Tablecloths, baskets to hold whatever snacks you wish to serve to your guests,  and a cake knife. We ALSO will provide fresh coffee for your adult guests, IF you bring cups, sugar, and cream. You will bring all the paper products, plates cups, utensils, cake, party favors (if you are giving them out), soda–large bottles are best, juice boxes, milk, your camera, snacks (if you want them) like pretzels, potato chips, etc…BUT no small candies like M&M's, popcorn, or party confetti. Sorry, no piñatas either! Don't worry…our party contract has ALL of this information on it for you to check off!!
Our Showroom does remain open for home sales … which is our main business. If you desire, you can book your party on Saturday night or all day Sunday when our showrooms are closed to home sales customers! If you book a Discount Weekday Party or a Prime Time Party, your group will be the only party during that time slot and will have complete freedom to roam our showroom. We do, however, remain open to customers looking to purchase equipment for their homes. We will do our best to help these customers and make every attempt to have your party run smoothly.
Delicious Pizza can be ordered for as low as $6 a pie! We have three different Pizza Parlors offering us great discounts–each parlor offers different style pizzas which we will describe to you in our contract. Currently we use Domenic's Pizza also in Trevose, and Station Pizza in NE Philly Grant Avenue.  You can also get 15% off an order from the Southampton Lee's Hoagies if you would like a hoagie tray and 10% off any party tray platters from Ben & Irv's Deli. We will furnish you with phone numbers with your contract! If you are having a MORNING PARTY (10am to Noon), we recommend you do a "breakfast"–offer bagels and coffee for the adults (we provide the coffee!) and do-nut holes, juice boxes, and cake for the kids!!
A $100 deposit is required to hold your date. This deposit is refundable with 30 days notice or if we can rebook your time slot to someone else. Deposits are needed within 6 days of reserving a date. But you can simply use a credit card the time of booking to save you from losing the date!  You can also change your date one time with no penalty, if something comes up (sickness, etc.) Invitations complete with map are available for download.  If you desire, you can purchase our nice 4 color fold out  printed invitations for twenty five cents each, which fold open and come with envelopes.  Our staff will all have masks and gloves. You can choose if you want to wear masks or your group…it's your decision.  We can now accommodate our regular group sizes again.
———————————————————————
Camps, Schools, & Day Care Centers –

ask about our special rates during the summer.
What FUN your group will have. We ARE the LOWEST price per person you can book in the COUNTRY for a private event! Your group not
only gets exclusive private use, there are NO extra charges or hidden expenses! A FLAT fee!!! We can handle up to 40 people. But in June and July, we allow groups up to 50 maximum at no extra charge. If you have larger groups, book an extra hour or TWO slots. Bring the first group in, have the bus return and pick up the second group, then switch them out with the first group time slot!
————————————————————————————-
STILL NOT CONVINCED?? Here's 
MORE INFORMATION!!
See what others are saying about our parties!  With our exclusive maze-like arcade showroom, ANY age would love to explore the aisles filled with classic arcade games. We even have the popular DANCE DANCE REVOLUTION machine! PLUS, gaze at our unusual HOLOGRAM collection–the largest grouping of its kind in PA! This $15,000 collection is scattered about our showrooms offering you incredible views of our world through 3D holograms! Also, our rack of antique Light Bulbs–each can be turned on by its own button, has working bulbs dating back to 1910! With over 28,000 private parties under our belt since 1987, we have created a unique party experience for people of ALL ages! Please contact us at TNT Amusements today. We know that birthday/surprise/mystery/bachelor/church or synagogue social parties are important to you and we want to assure you that we have experience to cater to your needs!   Private Arcade Parties for Philadelphia, Bucks County, Montgomery County, & Chester County- an EASY driving distance! Some people arrange a number of SUV's or Station Wagons to bring everyone in fewer vehicles.  Others have actually rented a bus!  Most adults are willing to bring the kids and stay when they know THEY can play free too!  Unlike other places that offer private arcade parties where you are only given a few tokens per person and are required to purchase more, each of our games is on  "Free Play."   This means that everyone attending the party can play as many games as many times as they want. Our parties have no hidden expenses and though the average 2 hour private party can play approximately $300 worth of games, we only require you to pay one FLAT rental charge.
Since 1987 when we started these private party rentals in our showrooms, they have been a hit with thousands of people! Let us make YOU into a believer that you CAN have a great party, AND spend FAR LESS than anywhere else!!

C

ontact us

to book it today! You can also CALL us to get information and check times slots directly 215-953-1188 Ext 0
For one-of-a-kind group parties and birthday parties, TNT Amusements is your premier choice! Serving Philadelphia, Chester County, Montgomery and Bucks County, all of New Jersey, even Delaware!
================================================
WATCH AN ACTUAL PARTY at TNT!  Look at this Video!
================================================
PRICING For 25 children and 15 adults birthday party or 40 adults adult party (we consider 16 and older an adult):
   Discount Weekday Parties –
2 Hour Party – $200
Mon, Tues, Wed, Thurs … any hours between 10am and 10pm-YOU Pick the two hours you want!
Fridays 10am to 6:30pm
LOOK! Book an extra hour for just $95 more for any of our regular slots.
________________________________________________________
   Weekend Prime Time Parties –
2 Hour Party – $280
   Friday Evenings
6:45 pm to 8:45 pm or  7-9 pm
9 pm to 11 pm or 9:15-11:15 pm
   Saturdays – Morning and Afternoons
10:00am – Noon
12:15 – 2:15 pm
2:30 – 4:30 pm
4;45  -6:45 pm
$130 Each Extra Hour on Friday Night

________________________________
  Exclusive Private Parties-
2 Hour Party – $300
   Saturday Evenings
7pm to 9pm

 

9:15pm to 11:15pm

OPTION:  Either of these two slots-we can add an extra hour for $130
  Sundays –all day
10:00am -12:00pm
12:15-2:15pm
2:30- 4:30pm
4:40- 6:40pm
6:50 – 8:50pm

 

Option: We can add an extra hour to the 6:50 to 8:50 slot for $130!
 ________________________________________________________
CALL US NOW to BOOK!  215-953-1188 ext 0
=====================================
NEW!
Just a few of you want to play Games?
 

We have a special deal in place NOW!  Play al ur games FREE for one low price! 
One to Two People–

One Hour $25, 2 Hours $40
Three to Six People–

One Hour $40, 2 Hours $75
Seven to Ten People–

One Hour $50, 2 Hours $90
SO, for instance,  if you have 10 people, that's just $9 a person for TWO HOURS!
You can pick out any times you want on any of these days.  These parties MUST be prepaid in FULL.  You are allowed ONE time/date cancellation if need be.
================================================================
This invitation prints on standard 8″ X 11″ paper and folds down nicely! You can fill it out in Adobe Acrobat reader once and print as many as you need! It's FULL color and even contains a map!